Did you know that March is National Crochet Month?
Well, its also National Craft Month but.... Crochet month gets me more excited!
Take this month to enjoy some crafting and crochet. I will be making it a crochet priority to complete my half finished projects, and Organize my craft corner. I plan on crocheting the New patterns from the talented independent designers I've discovered on Ravelry.
If you are considering picking up crochet as a new craft, this is an excellent time to go gather your supplies. Most Crafts stores will have extra sales and giveaways this month. Go restock on your crafting supplies and I would love to hear what you will be creating for national crochet/craft month.
Also.. CLICK the I heart Crochet button on the right side of this page and you can explore more about National Crochet month on the Lion Brand blog.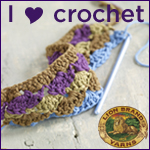 Till Next Time.
Get your Craft ON!